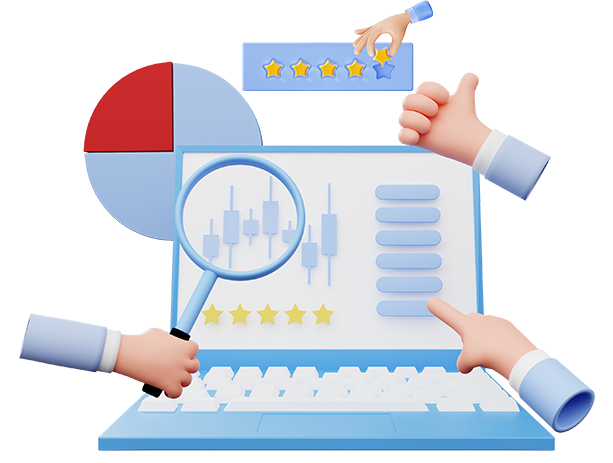 Review Management for Stellar Online Feedback
Prepare to maximize the potential of customer reviews with Your Reputations Consulting's top Review Management service. We create effective review management strategies to elevate your business. We conduct thorough audits to monitor your company's online reviews. We offer practical response plans for negative reviews to enhance the customer experience
Reviews hold immense power in shaping a brand's perception. Our review management service begins with a comprehensive analysis of customer reviews across various platforms such as Google, social media, and industry-specific websites.
We ensure that our clients never miss a review, positive or negative. We understand the importance of timely responses in resolving customer issues, improving customer satisfaction, and mitigating potential reputation risks.
Building a positive brand image is paramount for attracting new customers and retaining existing ones. Our review management service employs a strategic approach to enhance our client's online reputation.
Persuade Your Customer Base Effectively
Elevate the Importance of Reputation Reviews:
With our top-notch review management strategies, we help you highlight the significance of reputation reviews. This not only boosts your brand's credibility but also encourages customers to leave their reviews, further enhancing your online reputation.
Strengthen Your Brand's Identity:
A strong brand identity is crucial for standing out in a competitive market. By strategically selecting and promoting reviews that reflect your brand's unique selling points, you can reinforce your brand identity.
Foster Brand Recognition and Trustworthiness:
Positive reviews play a vital role in building trust among consumers. We ensure that your brand's positive feedback is prominently displayed across various platforms, including search engines and social media.
Cultivate Brand Awareness and Establish Credibility:
By actively managing your online reviews, we help you cultivate brand awareness and establish credibility in your industry. Our team ensures that your brand's positive reviews are consistently monitored, responded to, and shared across relevant platforms.
Elevate Your Brand Experience
Comprehensive Review Management Assessment:
A comprehensive assessment of your brand's current online reputation. This assessment enables us to identify areas that require improvement and develop a tailored strategy to manage your online reviews effectively.
Addressing Negative and Defamatory Reviews:
Negative reviews can significantly impact a brand's reputation. By engaging with dissatisfied customers and providing timely solutions, we aim to mitigate the impact of negative reviews and restore your brand's credibility.
Gaining Customer Experience Insights:
By analysing the sentiment, recurring themes, and specific pain points mentioned in reviews, we help you identify areas of improvement and make data-driven decisions to enhance your brand's overall customer experience.
Uncover and Highlight Unique Selling Propositions (USPs):
Online reviews often contain valuable feedback that can help you identify and highlight your brand's USPs. Our review management service is equipped with advanced sentiment analysis tools that enable us to identify positive aspects of your business that customers appreciate the most.
Get Free Review Management Analysis?